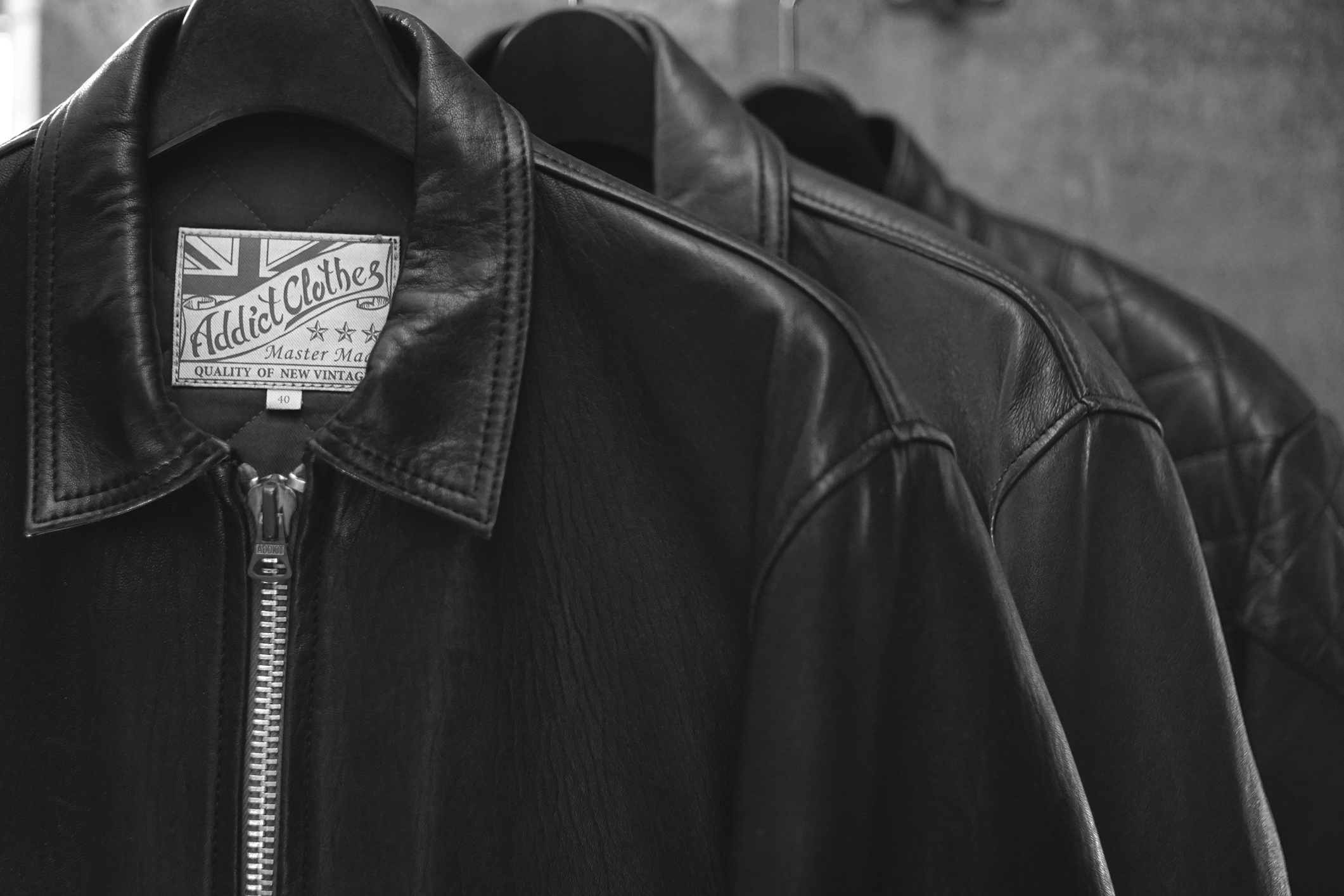 "VINTAGE"
自分自身が惚れ込んだイギリス製のヴィンテージバイカージャケットを売る店を開きたい、
いや、今思えば綿密なプランなど何もなく、いつの間にか店を開いていました。
2006年に富山県の商店街の外れで始めた最初のヴィンテージショップADDICT CLOTHESは、本当に好きなものに囲まれて仕事がしたい、本当に自分が好きなものだけ紹介したい、という思いから始めたお店でした。
商品のほとんどがレザーバイカージャケットだったので、春から夏にかけては売るものが全くありませんでしたが、余計な物は置きたくないという強い拘りがありました。のちに2010年からショップオリジナルのレザーバイカージャケットを作り始め、ワックスコットンジャケット、ブーツなど自身のワードロープの全てを作り始めました。
納得がいかなければ何度も試行錯誤をしながら、納得するまで作り直す。
それは最初にお店を開いた時の気持ちと同じで、本当に好きなものに囲まれたい、本当に自信のあるもの、自分の本当のワードロープを紹介して売りたいと思い続けているからです。
私はこれまで、多くのVINTAGE品から影響を受けてきました。
それらは古き良き時代の作り手の想いが凝縮されていたり、時代を経たことでより魅力を増していたり、
安易に消費の為に作られた物とはまるで違うからです。
VINTAGE品からインスピレーションを得てそれを生かし、現代的なエッセンスを加えながら、より良い製品を作りたいと思っています。
VINTAGE品のように長く、または何人ものオーナーに受け継がれる物を作り、私がVINTAGE品に
熱中したのと同じように、カスタマーも私の製品を楽しんでくれることを願っています。
ADDICT CLOTHES JAPAN
石嶋 聡
"VINTAGE"
I wanted to open a store that sells vintage British biker jackets which I had been very fond of, and actually, when I think about it now, I didn't have a specific plan and just ended up opening my store.
The first vintage shop ADDICT CLOTHES, which I started in 2006 on the outskirts of a shopping street in Toyama Prefecture, was created with the idea of wanting to work while being surrounded by the things I really liked and introducing only the things I really liked to my customers.
Most of the items on sale were leather biker jackets, so there was nothing for me to sell from spring to summer, but I had a strong commitment not to display unnecessary items at my store.
Later, in 2010, I began making my shop's original leather biker jackets and even stated making all items for my own wardrobe, including waxed cotton jackets and boots. When I wasn't satisfied with my work, I would repeat trial and error until I was. It was the same feeling as at the time when I was first opening my shop, and it is continuing because I want to be surrounded by the things I really like and would like to introduce and sell to my customers those things that I am really confident about and those that are actually in my own wardrobe.
Up until now I have been influenced by numerous vintage items. It is because they were made by craftsmen in the good old days and have become more attractive as the time went by and are different from the things which are simply made for consumption. I would like to be making better products while getting inspiration from vintage items and making use of it when adding a modern essence to my creations. I will be making items to be used for a long time by several owners just like real vintage products and I hope that my customers will enjoy my products in the same way in which I am enthusiastic about vintage things.
ADDICT CLOTHES JAPAN
SATOSHI ISHIJIMA